CONSTRUCTION COST CASE STUDY

This month's Construction Cost Case Study features a student housing project located in New York, NY. To view the full details of the project including specifications, cost synopsis and cost distribution, download the document below.
PROJECT NEWS
CBRE CONSULTS ON ONE MANHATTAN SQUARE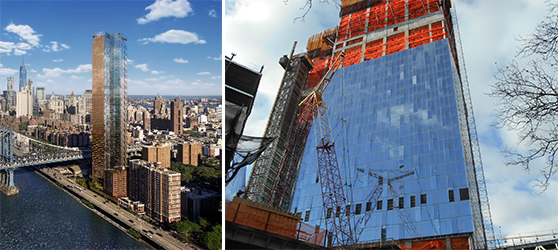 One Manhattan Square is an 815-unit, 72-story luxury condominium glass-enclosed tower to be located on a 2.17-acre site at the edge of New York Harbor on the Lower East Side of Manhattan. The building will be one of downtown's highest, and provide some of the most dramatic 360° panoramas NYC has to offer.
One Manhattan Square's amenities include a children's playground, tea garden, landscaped terrace with tree house, outdoor cooking area, gardens, basketball court, squash court, golf simulator room, spa with lap pool and hamman (Turkish bath), theater, parking garage, game room, bowling alley, business center, lounge with demonstration kitchen, multiple fitness studios, and weight room.
The project is being developed by Extell Development, with Adamson Associates as the Architect of Record, and Lend Lease (US) Construction LMB Inc. as the Construction Manager. Construction began May 2015 and is expected to be completed in 2019.
CBRE was retained to provide construction risk management services for the construction, including cost control, review of contract drawings and specifications, as well as review of construction documents, schedules, permits, and approvals. While under construction, CBRE is providing payment requisition review and approval services, schedule conformance review, and confirming general compliance of construction with the project documents.
For questions regarding Construction Risk Management, please contact:

Robert W. Barone, R.A., LEED AP
Senior Managing Director
+1 914 467 6913
robert.barone@cbre.com
CBRE ASSESSMENT & CONSULTING SERVICES
CBRE's Assessment & Consulting Services (ACS) provides a full suite of real estate consulting services - including property condition and environmental site assessments, facility assessment consulting, construction risk management and telecom advisory services.
As part of the Valuation & Advisory Services practice, ACS offers clients the ability to bundle appraisal, assessment and consulting services, making CBRE the only one-stop shop for providing all due-diligence services in-house. Our services include:
Construction Risk Management
Property Condition Assessments
Environmental Site Assessments
Facility Assessment Consultative Solutions
Seismic Risk Assessments

Zoning Compliance
Telecom Advisory Services
Financial Reporting
Appraisals
Specialty Valuation Services