• Gradually improving crude oil prices since early 2016 have approached what now appears to be, in the final months of 2017, an industry tipping point: $60 a barrel for West Texas Intermediate (WTI) crude.
• The long, and seemingly unending, slog back to this price level broke as December drew to a close at a level that had not previously broken since mid-2015 during an 18-month period of decline below $30 prices.
• This is encouraging news for Houston. In one example, the Federal Reserve Bank of Dallas recently reported a near 40% rise in the energy firm business activity index in the Oil Patch district. The bulk of this activity is concentrated in the exploration and production sector (E&P), supportive of a prospective rise in drilling and rig activity.
• CBRE Research breaks down the late 2017 energy pricing narrative and what it means for jobs in Houston and the metro economy during 2018.



Oil Price Growth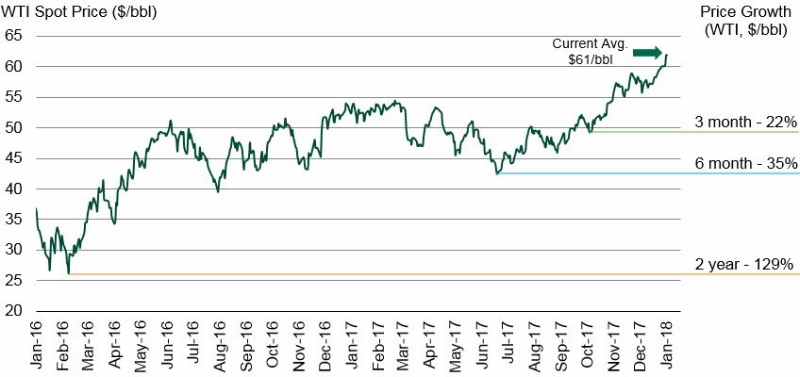 Source: U.S. EIA, January 2018

Tipping point for jobs, too

While labor indexes continue to rise overall for the energy industry, employment activity has been concentrated in the services segment. Given that oil field services took the brunt of the losses during the extended downturn (roughly twice as many layoffs as E&P), the operators were forced to become considerably leaner due to upstream price pressure. As a result, the largest rehiring effects are service-related as the demand for drilling activity expands.

In 2018, new payrolls in the upstream sector will be more muted, though, as the employment index retreated sharply during 2017, indicating relatively slower hiring over the past 12 months. While the prospect of the return of energy-related employment growth could potentially boost job gains during the next year, the consensus estimates are in the 50,000 range, indicating that it is more likely that drilling activity will provide tailwinds directly to the E&P industry instead of any substantial widespread economic gains in the Houston metro.

Vintage 2018 Sweet Texas Tea

The 'sweet spot' of $65 to $70 per barrel (bbl) oil prices where both the energy industry and consumers are generally content is based on the outcome of a variety of global factors. Chief among them is the OPEC-led production cuts which began in December 2016 and are extended now through the end of this year, with targeted production cuts of 1.7 million barrels per day. Most recently, geopolitical instability in Iraq and Saudi Arabia and supply cut expectations have also contributed to the recent rally in crude prices.

As break-evens continue to improve for shale producers, U.S. onshore production has increasingly backfilled OPEC's yielding of its market share, providing signs that sharp increases in crude prices is unlikely during 2018. Instead, industry experts are generally forecasting oil prices to remain stable with some tapering over the next year as global crude markets remain relatively oversupplied.

But the energy sector is beginning 2018 with crude oil prices north of $61 bbl and according to recent survey results from the Federal Reserve Bank of Dallas, represent what could be the cycle's tipping point into stabilization and expansion this year.
WTI Price Required for Substantial Rig Count Growth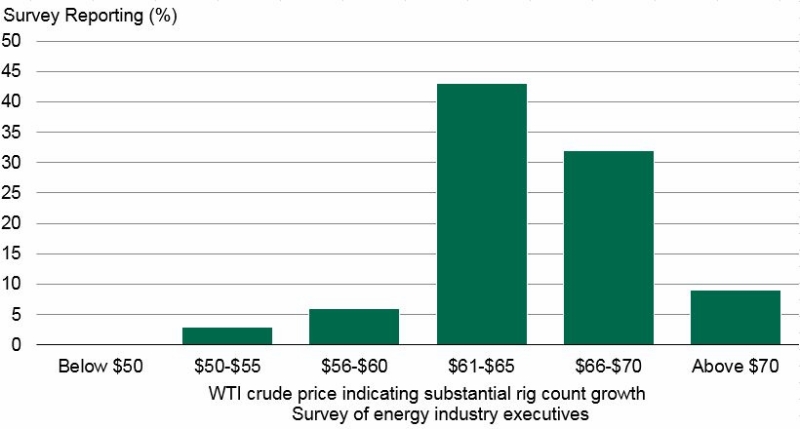 Source: Federal Reserve Bank of Dallas Energy Survey, Q4 2017.
Robert Kramp
Director of Research and Analysis - Texas-Oklahoma-Arkansas Region
T 713 577 1715
robert.kramp@cbre.com