Management Practices Training well received by new managers
Earlier this year, Human Resources held its second annual Management Practices Training, facilitated by Kimberley Cox, H.R. Director and Wayne Murray, FM Director, East Region. Recently promoted and/or new managers were invited to attend this interactive training session. Topics of focus included regulations and legislation, making the right hire, as well as promoting employee satisfaction and productivity through effective leadership and the RISE values.
The Management Practices Training was a result of feedback received from the account's 2012 Employee Satisfaction Survey. The survey identified areas for improvement such as management effectiveness and demonstration of the RISE values.
The Management Practices Training was positively received by all attendees, with 100 per cent of the material being regarded as relevant and 85 per cent of managers feeling more confident in their capacity to manage and lead employees.
Important to note is that the 2014 Employee Satisfaction Survey results improved, with the largest impact made around "environment", specifically satisfaction in management increased by 6 per cent.

H.R. will continue to hold these annual sessions for new managers on the IO account with the goal to continually improve management effectiveness and employee workplace satisfaction.
CBRE vendors gather to recognize service excellence
The IO account Strategic Sourcing team held their fourth annual Supplier Recognition Awards ceremony last week with 29 vendor companies in attendance. Eleven awards were handed out during the event, cohosted by Dominic Roopnarinesingh, Strategic Sourcing Director for the IO account and Bart Santamaria, Manager Procurement and Contract Management for the IBM Canada account. Also in attendance was Jeffrey Brown,
CBRE
Vice President Sourcing Solutions from Atlanta, Georgia.
Reflecting on 2014, the cohosts noted that CBRE utilized the services of 3,100 vendors across four major Canadian accounts of RBC, IO, United Technologies and IBM for a total of 76 million square feet (minus data centres), and 330,000 work orders.
Ryan Clayton, IO account Alliance Director underscored the importance of such events to recognize phenomenal service and show appreciation to CBRE's trusted vendors. "Our clients expect CBRE to raise the bar and not become complacent. We lean on our supply chain to help us out and partner with us to come to the table."
Nick Munaretto, Senior Vice President, IO Asset Management was in attendance for the event.
The Infrastructure Ontario account honoured five of its key suppliers for their outstanding contribution to CBRE while IBM honoured six.
The honourees were recognized in the following categories:
♦Service Excellence and Outstanding Contribution
♦Supplier of the Year Award (Non-technical and Technical categories)
These suppliers showed excellent partnership with CBRE by providing exceptional service above and beyond the call of duty, as well as aligning themselves with and embracing the CBRE R.I.S.E. Values.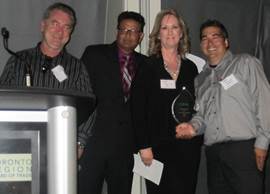 The winners in the category of Service Excellence and Outstanding Contribution for the IO account were:
♦Drain All Limited
♦Ontario Environmental Safety Network
♦Integracon (
pictured at left with Darlene Gardiner and Dominic Roopnarinesingh
)
The Supplier of the Year award was determined using the account's Supplier Performance Module (SPM) in Ariba in addition to evaluating a supplier's commitment and cooperation to the overall success of CBRE on the IO account. The recipient of the award in the non-technical category was Commissionaires while the recipient in the technical category was Direct Fire.
Dominic Roopnarinesingh thanked the winners for supporting CBRE and for all the work they do as CBRE's success would not be possible without these strategic partnerships.